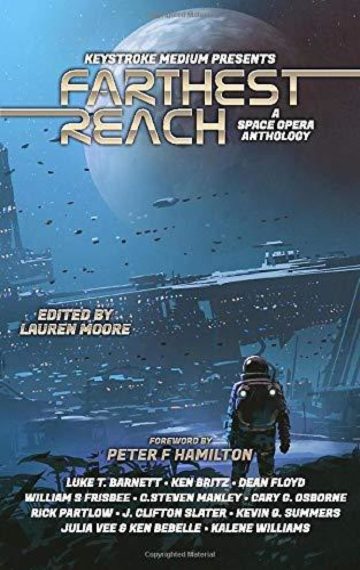 $2.99
Buy Now!
Read A Sample
See The Reviews
Editor:

Lauren Moore

Available in:

Kindle, Kindle Unlimited, Hardcopy

Published:

December 10, 2019
The stars are distant…
From the dawn of time, humanity has yearned for other skies. Keystroke Medium presents eleven different tales, stories that take you from alien landscapes to first contact and beyond. Where mankind reached for the stars and never looked back.
Welcome to Farthest Reach.
Included:
"Lucky Bastard" by Rick Partlow
"Brace Cordova and the Winds of Sinjin-3" by C.Steven Manley
"Windham Rex" by Kevin G Summers
"Superiority" by J Clifton Slater
"Star Sleeper" by Dean Floyd
"Threat" by Cary G Osborne
"Synth" by Luke T Barnett
"Frostbite" by Julia Vee and Ken Bebelle
"Echoes of Sonya" by Ken Britz
"Door Number One" by Kalene Williams
"For the Children" by William S Frisbee