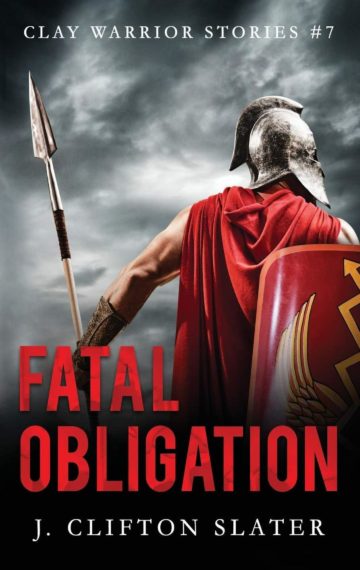 $4.99
Buy Now!
Read A Sample
See The Reviews
See The Full Series
Available in:

Kindle, Kindle Unlimited, Hardcopy

Published:

February 28, 2019
Alerio hurled the spear. Immediately regretting the loss of his second weapon, he prayed.
"Nenia, Goddess of Death, if it's my time, come for me quickly."
Attacking a pair of long spears with his short dagger was going to hurt and add to Alerio's collection of combat scars. And only leave him injured, if Fortūna smiled on him. If not? That's why he prayed to the other Goddess.
This should have been the easiest, most luxurious duty a heavy infantryman could ever imagine. It didn't turn out that way and, at the moment, he regretted throwing the spear.
Welcome to January 263 B.C.
Fatal Obligation is book #7 in the Clay Warrior Stories series. These are the adventures of Alerio Sisera, Corporal of the Republic's Legions, Weapons Instructor, experienced Raider, Combat Rower, and protégé of a powerful Roman Senator.
The Clay Warrior Stories are deeply researched historical fiction combined with high adventure. There are no dragons, wizards, or magic spells. Just blades and men skilled in the art of war, living in a time when empires clashed. An era when death rode on the edge of sharp steel and only the lucky or the good walked away from a fight.