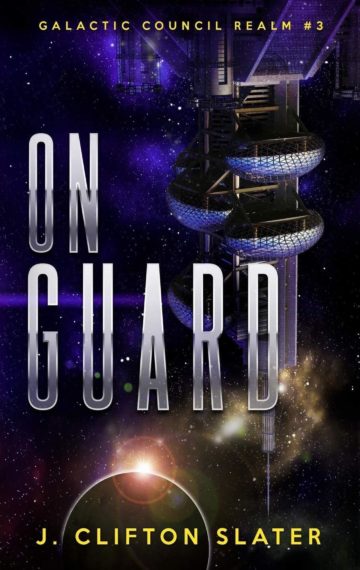 $4.99
Buy Now!
Read A Sample
See The Reviews
See The Full Series
Available in:

Kindle, Hardcopy

Published:

October 1, 2016
'On Guard' is the 3rd book in the Galactic Council Realm Series.
Lt. Phelan Oscar Piran is on a forced 30 day shore leave on Planet Tres. While on leave, he uncovers a government in rebellion, but the revolution goes far beyond the secession of a single planet.
He needs help.
Fortunately, a team of Special Navy Operations' operators are also on forced leave.
'On Guard' runs the gambit from mysteries concerning an ancient war, to harrowing escapes, space battles, Druid loyalties and a war no one believes possible. 'On Guard' is an adventure encompassing a Galactic Empire, Space Cats, Martial Arts, Marines, Navy Aviators and Aliens.
'On Guard' is the 3rd book in the series and along with 'On Station' and 'On Duty' tells the continuing story of Phelan Oscar Piran and the Galactic Council Realm.