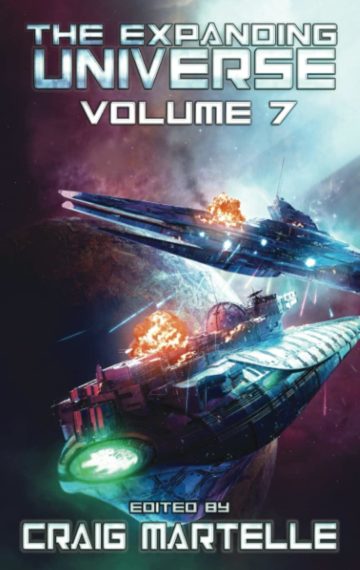 $3.99
Buy Now
Read A Sample
Available in:

Kindle, Kindle Unlimited, Print

Pages:

638

Published:

September 13, 2021
Explore the universe…
"Two possibilities exist: either we are alone in the universe or we are not. Both are equally terrifying." Arthur C Clarke penned those words, and they stand true to this day. Do we want to be alone? Leave it to science fiction authors to address that question in equal measure.
Aliens can be peaceful or not. Who will emerge as the superior strain of intelligence? Humanity may be new to the game, but they aren't new to conflict.
Fantastic races vying for dominance. A microcosm of the greater good. Battles fought for higher ideals. Battles fought just to survive.
War doesn't care about human or alien. The soldiers fight, and they fight hard, as if their lives depend on it.
Because they do.
Contributing Authors and Stories
Unintended Consequences by Kacey Ezell
A salvage crew uncovers the ancient record of just how far a desperate woman will go in search of vengeance.
Remora Prophet by Lawrence M. Schoen
When you have the power to reshape a planet, who decides what it means to be human?
Steppenwolf by Alastair Mayer
A casual encounter turns rescue mission, then goes bad. A T-Space story.
Professional Amateurs by Todd McCaffrey
'We know what we are, but know not what we may be.' (Hamlet, Act 4, Scene 5)
The Signal by Ben Wolf
Two survivors of a crash-landing on an icy planet struggle to survive the severe climate and the remnant of the ship's crew that is hunting them.
Maelstrom by Jonathan P. Brazee
Can the disabled son of a military hero step up when his town is being invaded?
Wormhole's End by J. Clifton Slater
Of the many ways to survive a star colony's persecution, Alex Butterjoy chose to be a pirate.
Cleaning Up by Felix R. Savage
The aliens were pink stick insects with a weakness for consumer electronics and cuddly pets … how dangerous could they be?
The Great Black Sea by Tao Wong
Even infamous Pirate Captains have to start somewhere, and in the world of the System, that means with a Basic Class as a Cabin Boy on a raid of a merchant convoy.
No Way Out by Chris Kennedy
When there's no way out, the best you can hope for is survival.
Antipiracy Patrol by Terry Mixon
There's never a dull moment when on antipiracy patrol!
Misinformation Warfare by David VanDyke
The greatest danger to a warship in space is the enemy within.
Discipline: Sostible by Isla Molina
Two warring ships. Two opposing diplomats. One universal secret.
Novis Invenirent Resurrectionem by D.M. Pruden
The lone survivor of a defeated invasion fleet is offered the last chance to save his people from themselves.
Gnamma Station by Paul A. Piatt
In space, war is inevitable.
Gone Rogue by Jacki Rawlinson
Dax is put in a difficult position when his emotionally unstable AI goes rogue
Azchut by Brad R. Torgersen
Wherein lies a captain's duty?
Why You Should Think Twice Before Adopting an Alien Baby by Robert Jeschonek
The ultimate adoption horror story threatens to turn humanity's first steps on the final frontier into a blood-soaked last stand beyond the stars.
DELETE by Jerry Shepard
If you are on his list, justice will be served.
Mech by C. Gockel
To escape her memories, Lieutenant Commander Noa Sato accepts a dangerous mission behind enemy lines. She'll need the help of a dead man to pull it off.
A Deadly Game by Craig Martelle
When a game is so much more.
More than 600 action-packed pages of never-a-dull-moment entertainment! Join new friends as you immerse yourself in high-tech worlds scattered across the stars. Seize your copy of The Expanding Universe Volume 7 today.