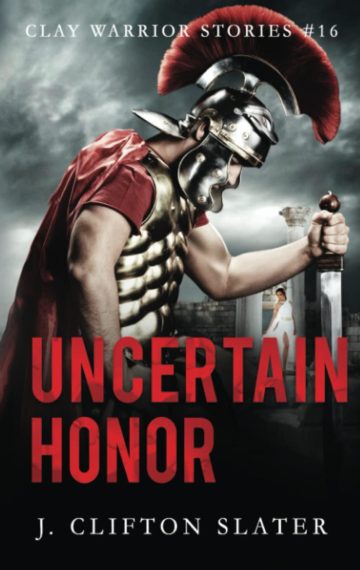 $4.99
Buy Now!
Read A Sample
See The Reviews
See The Full Series
Available in:

Kindle, Kindle Unlimited, Hardcopy

Published:

May 7, 2021
"Fresh hate is fuel," Alerio whispered.
Groaning with agony from the pain in his tortured body, he struggled to get the tunic over his head. Reluctantly, Hektor handed him the armor and Senior Tribune Sisera added. "They wanted someone to die this night. I'm only fulfilling their wish."
Outside the tent, Alerio scooped a bucket of water from the barrel and carried it to Phobos. Picking up on his master's mood, the stallion danced sideways in anticipation of combat. The frantic movements reminded Alerio of lessons from his youth.
"You're right," he uttered to the horse. "Never allow your temper to rule your emotions. And never temper your revenge with passion or compassion."
Under the influence of the memory, the Legion officer's breathing calmed, and his mind settled.
Once the stallion had enough water, Alerio tossed the bucket in the direction of the barrel and mounted the beast. A moment later, man and horse trotted away from the supply depot.
Alerio neither rushed Phobos nor reined him in. Rather, he allowed the animal to move at a steady pace towards the Consuls' headquarters. Senior Tribune Sisera could have delayed the retribution, but honor demanded the killing take place before sunrise.
Welcome to 256 B.C.
Uncertain Honor is book #16 in the Clay Warrior Stories series
Warning, this the seasonal mid-Republic Legion, not the fulltime Imperial Legion, and it is messy.